"This is really IRRITATING" - Juliet


Oh no! A Dark Purveyor has corrupted the page!
Contribute all you can to this page to stop the Dark Purveyors and prevent the wiki from getting overran by Zombies! .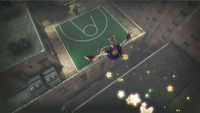 The Big Jump (ビッグジャンプ) is one of the moves that Juliet can perform in various stages. In order to do it, she will need to run up and jump from a gigantic ramp using Chainsaw Dash. This move is mostly done during Stage 2.
The Big Jump sound effect is recycled in Killer is Dead, when Juliet jumps away after the player frees her from a barrel in Episode 51.