"This is really IRRITATING" - Juliet


Oh no! A Dark Purveyor has corrupted the page!
Contribute all you can to this page to stop the Dark Purveyors and prevent the wiki from getting overran by Zombies! .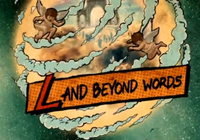 The Land Beyond Words is one of the worlds that comprises the Universe  along with Earth and the Rotten World. It can be viewed as the equivalent of the Heaven described in the Judeo-Christian belief system.
Morikawa's spirit goes here upon his death.
Ad blocker interference detected!
Wikia is a free-to-use site that makes money from advertising. We have a modified experience for viewers using ad blockers

Wikia is not accessible if you've made further modifications. Remove the custom ad blocker rule(s) and the page will load as expected.