"This is really IRRITATING" - Juliet


Oh no! A Dark Purveyor has corrupted the page!
Contribute all you can to this page to stop the Dark Purveyors and prevent the wiki from getting overran by Zombies! .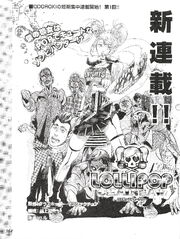 In 2012 a manga tie-in of Lollipop Chainsaw (ロリポップチェーンソー) was published by Enterbrain in their Famitsu Comic Clear magazine. The story was adapted by Reisuke Kawakami and the art was done by "Haru".
It details several events that happened before the game.






Ad blocker interference detected!
Wikia is a free-to-use site that makes money from advertising. We have a modified experience for viewers using ad blockers

Wikia is not accessible if you've made further modifications. Remove the custom ad blocker rule(s) and the page will load as expected.