Here is a list of all known merchandise and promotional material for Lollipop Chainsaw.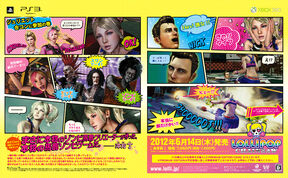 Promotional Material
Edit
PAX 2011 Promotional Item
Edit
The PAX convention takes place in Seattle. On the first day (Friday, August 26, 2011) they gave away a black foam-rubber "Lollipop Chainsaw" finger with pink and white accents. The finger was printed with the game's Facebook page address.
Halloween Swag Bag
Edit
This was released on October 31st, 2011. As shown on Complex.com, this is a gym bag full of promotional goodies.
It consists of a blood-spattered blue gymbag with yellow lettering with the San Romero Knights team logo on it, a black foam-rubber "Lollipop Chainsaw" finger, a blood-spattered purple notebook with yellow Lollipop Chainsaw "skull-and-lollipops" logo, a pair of yellow plastic pom-poms with white plastic handles with the Lollipop Chainsaw logo embossed in black, and a red USB thumbdrive with Juliet Starling artwork on its shell.
Since it's Halloween, it's also full of candy. The goodies include a rainbow-colored Whirly Pop "all-day sucker" lollipop, assorted flavors of lollipop with the Lollipop Chainsaw "skull" logo branded on them in white, Boo-Boo Licks gummy used bandaids, and Body Parts gummy human body parts sushi (with wooden chopsticks included).
The thumbdrive contained the Halloween Teaser Trailer for the game, giving its recipients a sneak-peek at it.
The Destructoid.com swag bag differed in that it also contained a bottle of hand sanitizer.
Lollipop Chainsaw USA Retail Launch Kit
Edit
As shown on Destructoid's site, this is WB Interactive's Promo Box. Game Swag Online shows the items in closer detail and even has an "autopsy" video of the box's contents. (The box does not contain a copy of the game).
Availability
Edit
This was available first-come-first-serve at launch in Retail Stores on June 12th, 2012. They were in stores until they were sold. The press-only version came with a copy of the game.
This was also available for free through a Cheer contest on Destructoid.com, which were given 10 early-release versions of the box by WB Interactive on June 11th. The contestants had to post a text or video Lollipop-Chainsaw-themed cheer in the Comments section of the contest page. The contest began on Monday, June 11th, 2012 and the deadline was 23:59 hours (11:59 PM) PDT, Saturday, June 16th, 2012. The ten prize winners were notified by email.
Inside it contains a Lollipop Chainsaw "skull-and-lollipops" logo T-Shirt and an 8-inch x 10-inch "autographed" game-art mini-poster on top.
Below that (left to right, up to down) are a rolled-up 24-inch x 36-inches Lollipop Chainsaw cover art wall poster, a pair of blood-spattered gold foil pom-poms with white plastic handles with the Lollipop Chainsaw logo embossed in red, a packet containing a Lollipop Chainsaw logo temporary tattoo and a heart-shaped "skull-and-lollipops" logo magnet, a "Spirit Stick" baton, a black USB thumbdrive with the game logo, a large heart-shaped "all-day sucker" lollipop with a "skull-and-lollipops" logo sticker, a red mini-Megaphone with a black Lollipop Chainsaw logo, and a Nick Head keyring.
The USB thumbdrive has a floating Nick Head suspended in a viscous red fluid in a spherical "blood globe" on the end.
The mini poster and wall poster use the USA version of the cover art.
The Nick Head keychain is stored in the mini-Megaphone. The Destructoid.com box displayed has two Nick Head keychains.
Merchandise
Edit
iPhone Skins
Edit
In Japan, two iPhone skins were available to buy on the Grasshopper Manufacture website. They had illustrations of Juliet calling Rosalind, and Rosalind calling Juliet.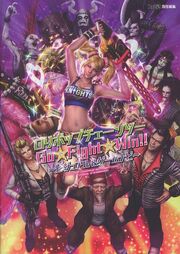 An artbook entitled Go! Fight! Win! was released in Japan on June 28, 2012. The book is 111 pages long and contains CG renders of Juliet (from both Japanese and American promotional artwork), concept art, character profiles, a comic book summary of the game's events, and more.
A Japan-only manga tie-in was published near the game's release. The manga details several events that happened before the game.
Juliet Figure
Edit
World Scope, a company that specializes in making collectible figures of anime and video game characters, is currently working on a figure of Juliet Starling. It is scheduled for release in December 2013.