"This is really IRRITATING" - Juliet


Oh no! A Dark Purveyor has corrupted the page!
Contribute all you can to this page to stop the Dark Purveyors and prevent the wiki from getting overran by Zombies! .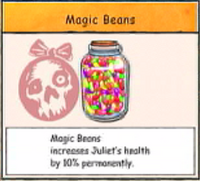 The Magic Beans (魔法の豆) are one of the items in the game Lollipop Chainsaw. It is the first health increasing item.
The Magic Beans permanently increase Juliet's health by 10 percent.
Purchasing
Edit
The Magic Beans cost 60 gold medals, and are immediately available to purchase. Buying them makes the Crunchy Monkey Cereal available.
See Also
Edit