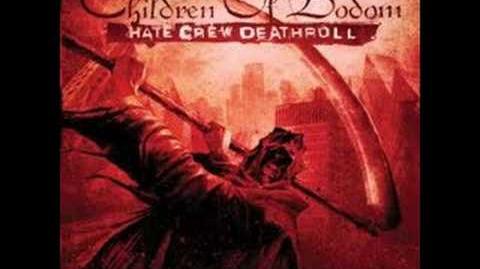 Needled 24/7 is a 2003 death metal song performed by Children of Bodom. In Lollipop Chainsaw, it plays at the beginning of Stage 2, Thunder at San Romero High.
Since day one, I've been crass and far beyond
I couldn't laugh, I couldn't cry
Before you judge me, take a look at yourself
Condescendin', out livin' in a lie

Despite all the pain in my heart grinding through
It ain't due that you hate what I hate what you do
Despite all the piety you've been consuming thus far
A backstabbing motherfucker to the bone is what you are

CHORUS:
And every day, when the knife in my back starts to twinge 'n' turn
My eyes are catching fire and my heart starts to burn
A foot away from you is like a bit closer to heaven
Then again, it's like being needled 24/7

You look down to me to see the scum of the earth to be (Fuck yeah
That's me, vile and obscene, I ain't happy about it but at least
I don't judge and decree, to be better than another human being

[chorus]

Despite all the piety you've been consuming thus far,
Hey, would somebody tell me what the fuck is going on

[chorus]

(Death? What you all know about death)
Ad blocker interference detected!
Wikia is a free-to-use site that makes money from advertising. We have a modified experience for viewers using ad blockers

Wikia is not accessible if you've made further modifications. Remove the custom ad blocker rule(s) and the page will load as expected.