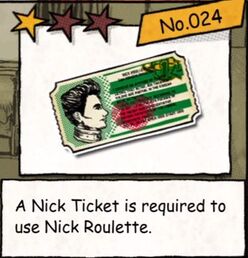 Nick Tickets (ニックチケッ) are vital items within Lollipop Chainsaw, allowing Juliet Starling to use her decapitated boyfriend Nick's head as a weapon against the undead. The use of a Nick Ticket allows Juliet to use such skills as the Nick Shoot, Nick Popper and Nick Shake. Having a Nick Ticket will also give the player a second chance, should they fall in battle.
Nick Tickets can infrequently be found within the stages, as well as purchased for 30 gold medal within Chop2Shop.zom. Juliet is capable of carrying up to nine Nick Tickets at one time.
See Also: Love Nick
Ad blocker interference detected!
Wikia is a free-to-use site that makes money from advertising. We have a modified experience for viewers using ad blockers

Wikia is not accessible if you've made further modifications. Remove the custom ad blocker rule(s) and the page will load as expected.