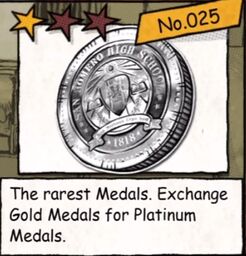 Platinum Medals (プラチナメダル) are one of the items in the game Lollipop Chainsaw. They are earned when Juliet executes Sparkle Hunting combos when killing zombies, and occasionally when killing named zombies or during other special encounters.
They can be exchanged at Chop2Shop.zom for special items, including alternate costumes, additional music tracks for use in stage BGM, and concept art. Players can also exchange 500 Gold Medals for 1 Platinum Medal at Chop2Shop.zom. This is a useful option during later playthroughs, after all Gold Medal upgrades have been purchased.
The number of Platinum Medals earned during a Sparkle Hunting combo depends on the number of zombies dispatched at once, with a minimum of 1 earned for 3 zombies.