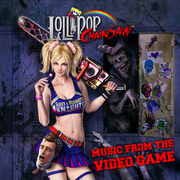 These are the songs used in the game.
Original Music
Edit
Junkyard Killing
Love For My Insane Lover
My Friend is a Zombie?
5 Meters to Juliet
Throwin' Around Zombie Heads
First Date: Zombie Edition
Cannibalism 101
Zombie Festival All Day!
We Are Norse Gods
Drink Your Blood After a Workout
Code of the Viking Zombies
Zombie Tackle
Eat This, Yumil!
Ragnarok Comes and I Hunger for Flesh
Dashing Through Rain
Viking Zombies Sail on Lightning Seas
Zombies Dance When the Drums Play
Zombie Guts
Illusion of New World
Double-Crop Rock
The Queen's Rotting Funhouse
The Bus on the Wheels Go Round
The Mushrooms Arrive
Hello from the Fields of Death
Reflections in a Bubble
Sparkling Sunglasses
Digital Splatter
Mirrorball Madhouse
Groovy Zombie Trap
Heading to Space at Warp Five
Happy Hand Club
Rainbow Zombie Fever!
Retro Diapers
Will Boogie for Food
Bowel Purge
Forgotten Zombie Rock
You're in Love With a Zombie
Elephant Corpse Rock
Burning Pompadour Zombie
Scattering Guts
Dead Girlfriend & Zombie Guts
To the Rotten World
Violent Student Poetry
Zombeef Burger
Licensed Music
Edit
Ad blocker interference detected!
Wikia is a free-to-use site that makes money from advertising. We have a modified experience for viewers using ad blockers

Wikia is not accessible if you've made further modifications. Remove the custom ad blocker rule(s) and the page will load as expected.